Dear customers,
The health crisis that the world is going through must teach us to live differently, travel and tourism being among the most affected domains.
Hotel Aethrio is committed to providing you with all the necessary information on this subject.
First of all, the good news. Greece, as you have seen in the media, has been much less affected than other European countries. Aware of the seriousness of the problem, the government took the necessary measures very quickly, and the Greek people reacted very well to those instructions.
The authorities have announced the reopening of tourism on 14/05/21. Consequently, no quarantine measures will be imposed on travelers, they will have to present a vaccination certificate or negative PCR test made less than 72 hours. There will as well a random test at airports.
Santorini is even luckier, a minimum of case of CODIV-19 has been reported since the beginning of this crisis.
Our Facebook AETHRIO give many updated information regarding this subject.
As you can imagine, new hygiene measures and sanitary protocols will be implemented in hotels around the world.
Hotel Aethrio will provide you with all the guarantees you need to enjoy your stay with complete confidence, naturally implementing these guidelines, in accordance with the structure of our establishment :
- Compliance with national health and safety protocols (Health First Certificate).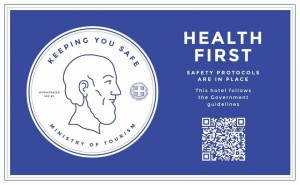 - Enhanced health and safety training programs for our employees
- Weekly Self test Covid-19 mandatory for our staff.
- Simple and fast contactless check-in and check-out procedures
- Encouraging and maintaining social distancing
- independent air conditioning units, with certified control, ensuring the renewal of air directly from the outside environment.
- Natural ventilation of all rooms, either through their balconies or windows
- Intensification of cleaning and disinfection protocols
- Stations with disinfectant dispensers
- Special attention is paid to disinfecting the most frequently affected points in each room.
- Increased frequency of cleaning of public areas and points of contact with guests, such as reception, public bathrooms, doorknobs and locks and keys to rooms.
- Outdoor facilities with safety distance for breakfast and snacks
- A la carte breakfast menu that avoids the large buffet available for many people
- Additional sanitation practices beyond HACCP kitchen protocols
- Digital Menus on Demand (PDF file)
At the same time, we would like to inform you that Hotel Aethrio is unique in its characteristics. It consists of individual units that are widely spaced apart. There are no rooms or apartments that are lined up in number and side by side in the same main building, on several floors, as in large resorts. Air conditioning is individual and not collective, and most of the time the balconies or terraces are private. A short tour through our photo gallery will give you a glimpse of this asset that will make the Aethrio an even safer place for your stay in Santorini.
Besides, we only have 19 rooms, and our total superficies are around 2000 m2! It is a small structure in a big space that will easily adapt to the new constraints of social distancing that we will all have to respect for a while.
Some of the hotel's services may certainly be restricted, such as our wonderful Greek breakfast buffet, or the use of our superb swimming pool, which will have to be limited. However, our team will do everything possible to offer you our legendary hospitality, dear to our beautiful country, the famous "philoxenia" for which we are famous. The Aethrio will be a healthy, safe place, in accordance with the new requirements, but it will remain a friendly place and will not fall into the hygienic excess of large impersonal structures which will have no choice.
Note also that a hotel in Santorini will be requisitioned for the transfer of any suspicious case of CODIV-19, and that a CODIV-19 cell will be set up at the island's hospital. There will therefore be no quarantine of any establishment if a suspected case is found.
We plan to open on 14/05, and we look forward to welcoming you there. In order to put these difficult moments behind us and move forward, we are offering you exceptional promotions for this summer.
One last reason to come to the Aethrio this year. It is very likely that less cruise ship will come to our beautiful island this summer. So there will be no overcrowding, the opportunity will be unique to admire all the treasures of our destination.
Moreover, we remind you that the Aethrio has 2 large terraces which have a superb view of the famous sunset, so you will be able to avoid the world if you are not reassured!
See you soon!
The Management.